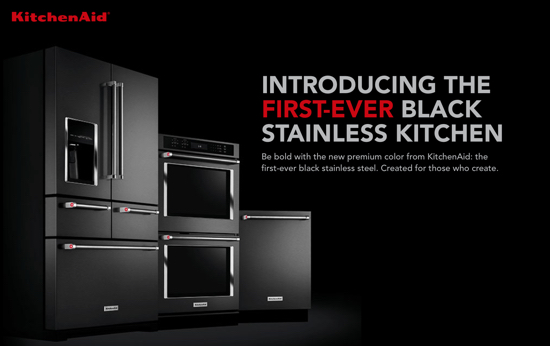 We all know that trends are cyclical.  If you just wait a couple of seasons, your favorite home decorative item or that favorite shirt will eventually come back into style.   I am not implying that stainless steel appliances went out of style and now are making a comeback…they are still a widely popular choice for appliances.  However, what I am now saying is that the color "black"  has made its way back into style for kitchen appliances…yeah!
I was never a true fan of the look of stainless steel appliances because they just make a kitchen feel so commercial and cold…just my opinion.  When I did a "soft" redecorating of my kitchen, I decided to forego the industry's standard of installing stainless steel appliances and just purchased black appliances…<YIKES> I know, a designer not following a trend…LOL!
However, I am glad that I decided to follow my own trend and stick with my decision of purchasing black appliances.  Although my kitchen appliances are not stainless steel, my kitchen appliances are still in style because they are black…LOL!
Now, what I might do to update my appliances since they are fairly new would be to add stainless steel handles and knobs…who knew…LOL!
Tamela