Once again, I am participating in another YouTube collaboration…yeah me!  I was invited along with eleven other fabulous YouTube channels to create a holiday tablescape with an item purchased from the clearance isle from these following stores….TJ Maxx, HomeGoods or Marshall's.
Now anyone who knows me, is well aware that I can shop very well in the clearance section and create fabulousity on a budget…LOL!   So with that being said, I ended up finding two clearance items at HomeGoods to create my holiday tablescape.  Now, I am not going to tell you what I found and how I used them, you will have to watch my Haute On Design video episode to see my creation.  And please don't forget to SUBSCRIBE, THUMBS UP and SHARE this video!
When it comes to decorating a tablescape, your set-up is a very important step in creating a functional and beautiful tablescape.  Whenever I am creating a tablescape for any event, there are specific steps that I take to ensure a perfect tablescape.
You first want to set-up your work-horse items in an arrangement that is user friendly and easy to navigate.  I normally place the larger items in the back and do a gradient downsize towards the front.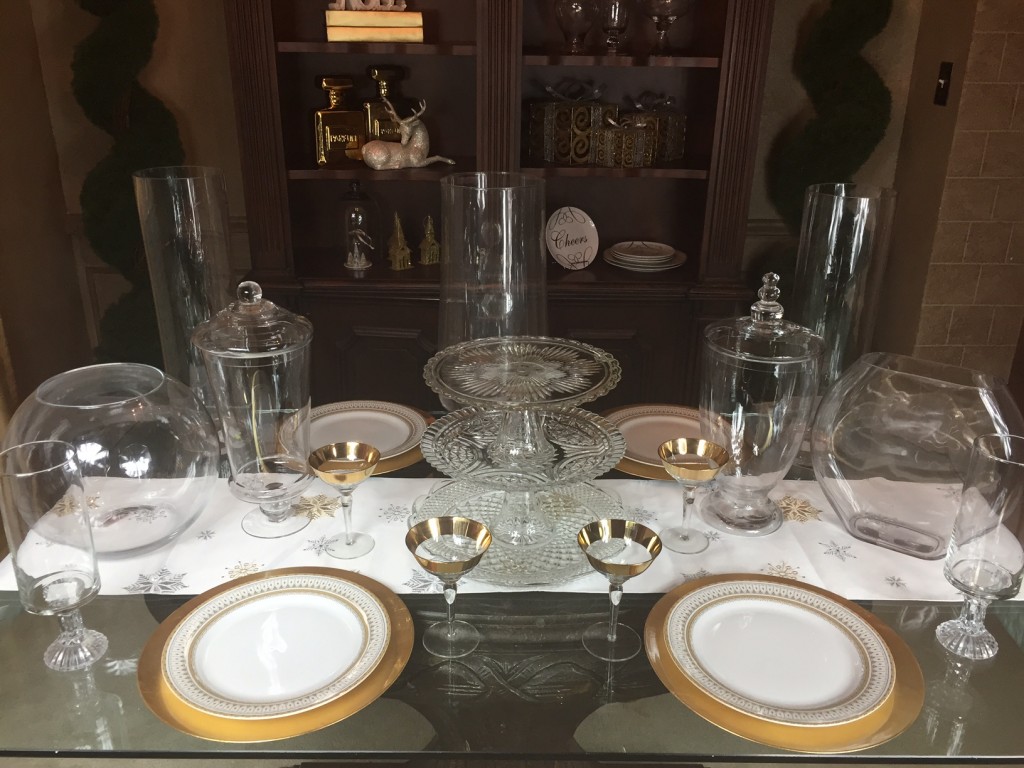 Your next step would be to add in your decorative accessories.  I would suggest keeping your decorative accessories to a minimal on the table because you want to highlight the items in the tablescape and not the decorative accessories.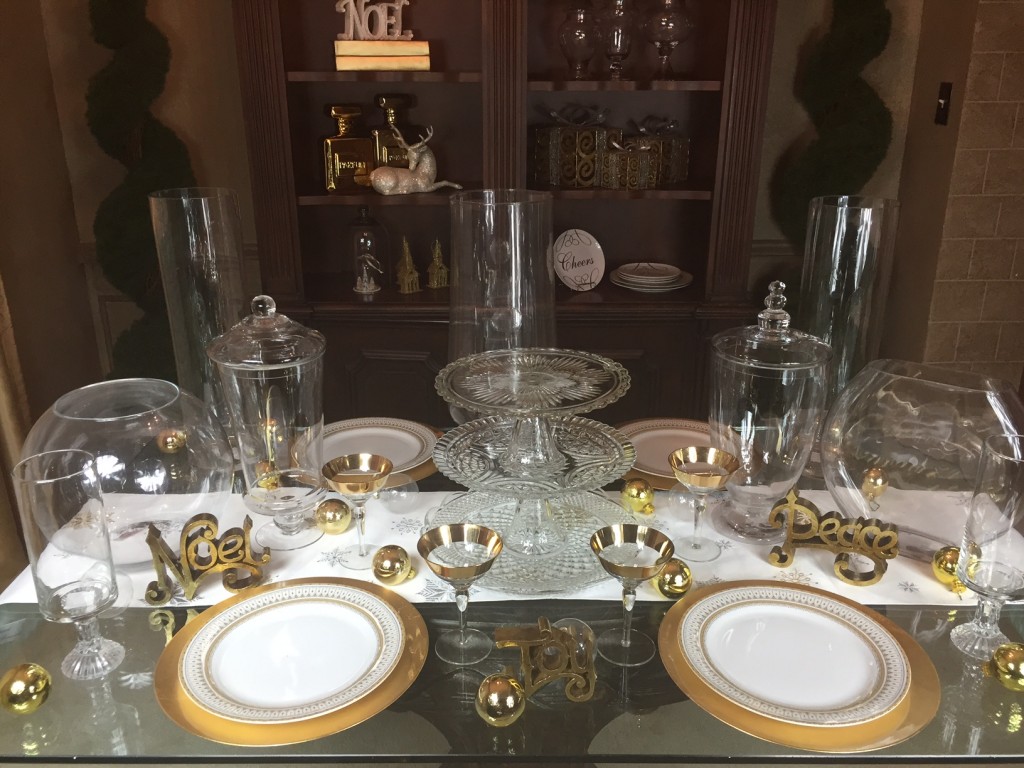 If you notice, I only added in a few gold ball ornaments and placed three Christmas word plaques on the table.
In the next step which I call the "fill-in process" is where you would fill in the items or jars that are not going to hold any food items.  If you noticed, I have added in the white florals, and ball ornaments in the large jars.  In addition, this step is where you would also add your labels, your signage and the serving utensils.  I would say that this is the most important step in the process.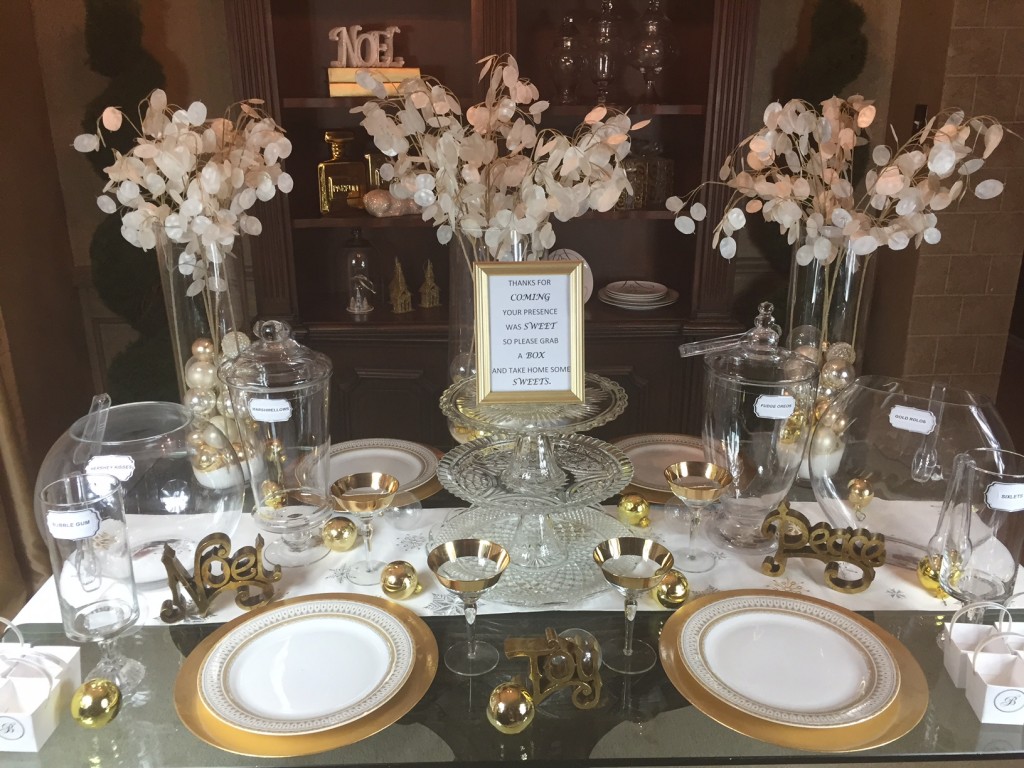 And now for the REVEAL!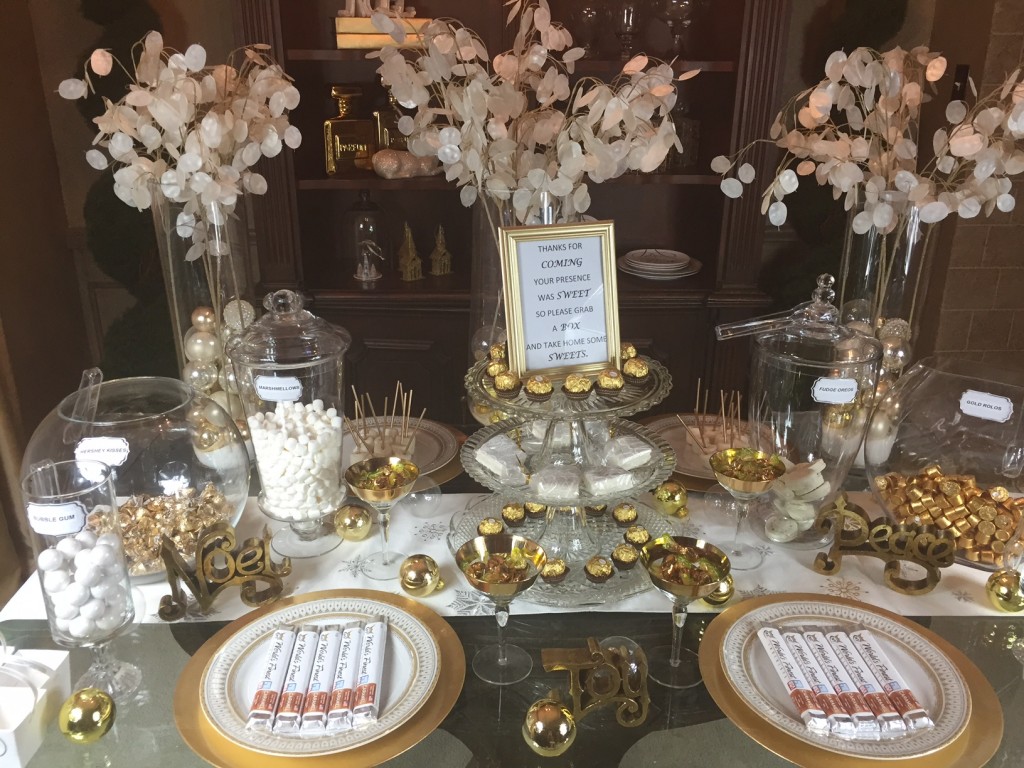 All the sweets are in their respective jars ready to be taken home by my friends and family.  And this is special message in the picture frame from me to my guests.
Thanks for coming

Your presence was sweet

So please grab a box

and take home some sweets. 
I found this quote on Pinterest and it really fits the tablescape.  Please comment below if this has inspired you to create a holiday tablescape or a Christmas Candy Buffet!   Thanks for stopping by!
XoXo
Tamela