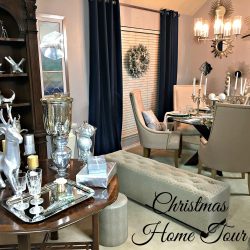 It is that time the year again… the Christmas Holiday Season!  This holiday season is one of my best seasons when it comes to decorating simply because I can go all out with my decor.  I can break all of the decorating rules and just have fun at creating beautiful, glitzy and "over-the-top" decorative vignettes throughout my home.
This year is no different except the fact that I have a new wall paint color in my home, along with a new fireplace surround and a new staircase…I will reveal these parts of my home in a new design video on my Youtube channel in 2017.  So please be sure to subscribe to my YouTube channel so that you will not miss out.
This year's theme centered around a "Winter Wonderland" full with glitz and glam.  As you can see that required incorporating a lot of shiny metallics…gold and silver.  In addition, to adding a lot of mirrored decorative items and surfaces.  To further the Winter Wonderland look, I decided to use flocked wreaths and faux snow as the basis for a lot of my decorative vignettes.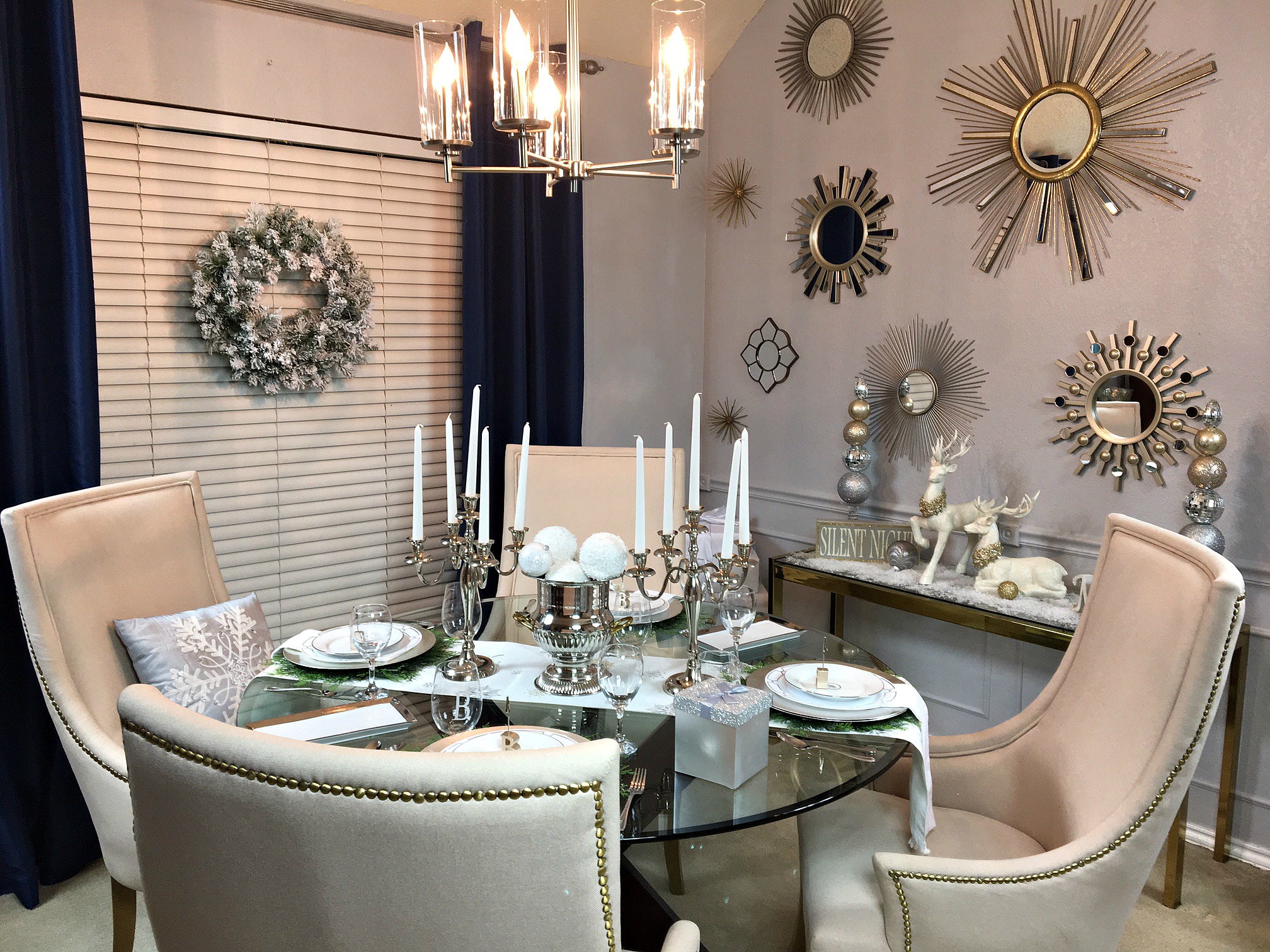 Since I used so much of the shiny metallics, I decided to bring down the level of shine a little by adding the white tapered candles to the candelabra,  using white plates to the place settings, stacking the faux white snowball ornaments inside of the silver urn, and incorporating a white table runner.  The green faux cedar branch placemats I purchased from Pier 1, help to break up some of the shine, and add a different texture while providing color to my Christmas formal dining table.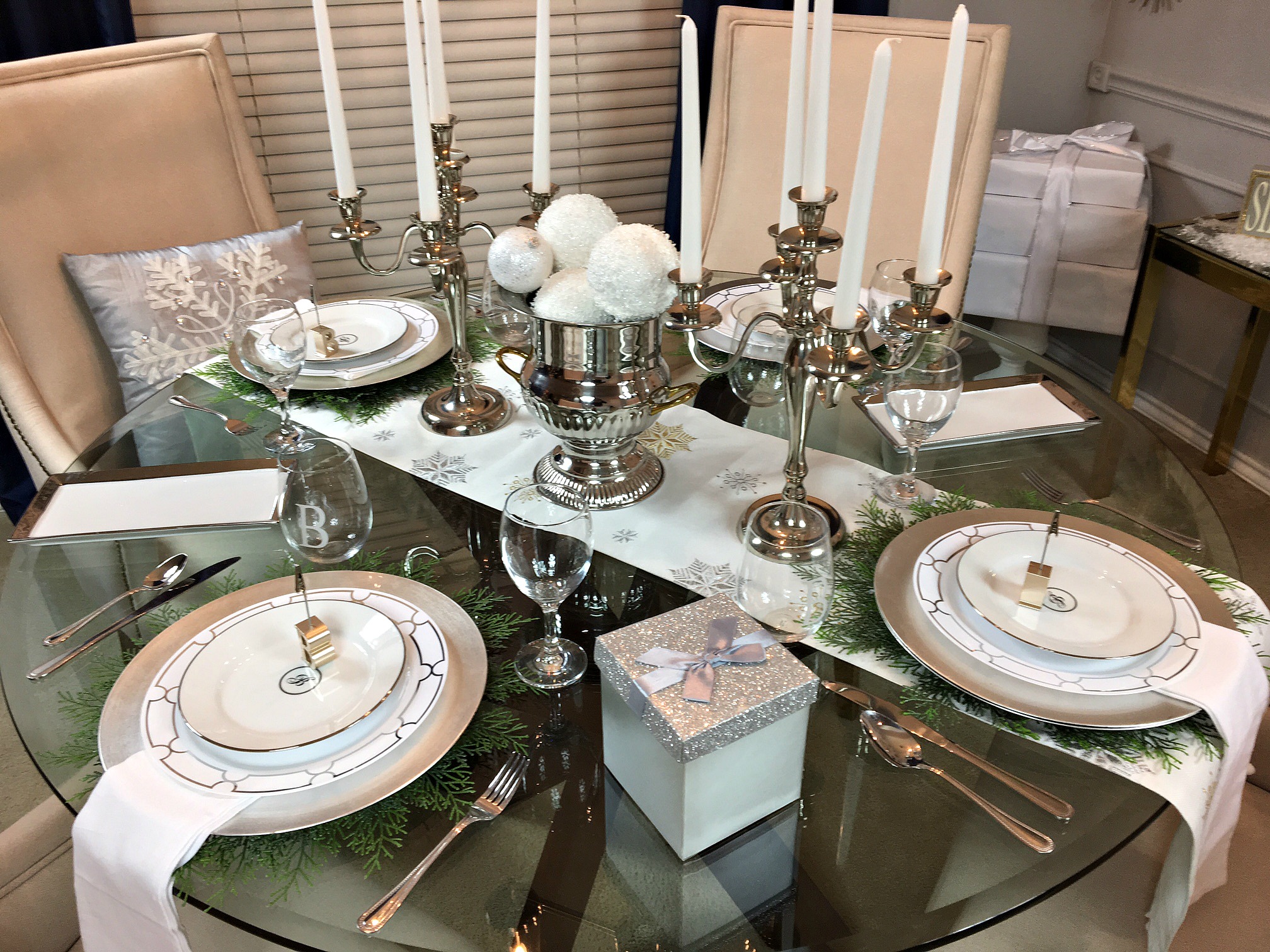 I decided to flock this year's Christmas tree because after this Christmas, this tree is being donated to our local recycling center.  We have had this Christmas tree for over 7 years and it is time for a new one.  I am seriously thinking about going the "real tree" route because it will save on not having to store it and I would love to have the fresh scent of pine in my home during the holiday season.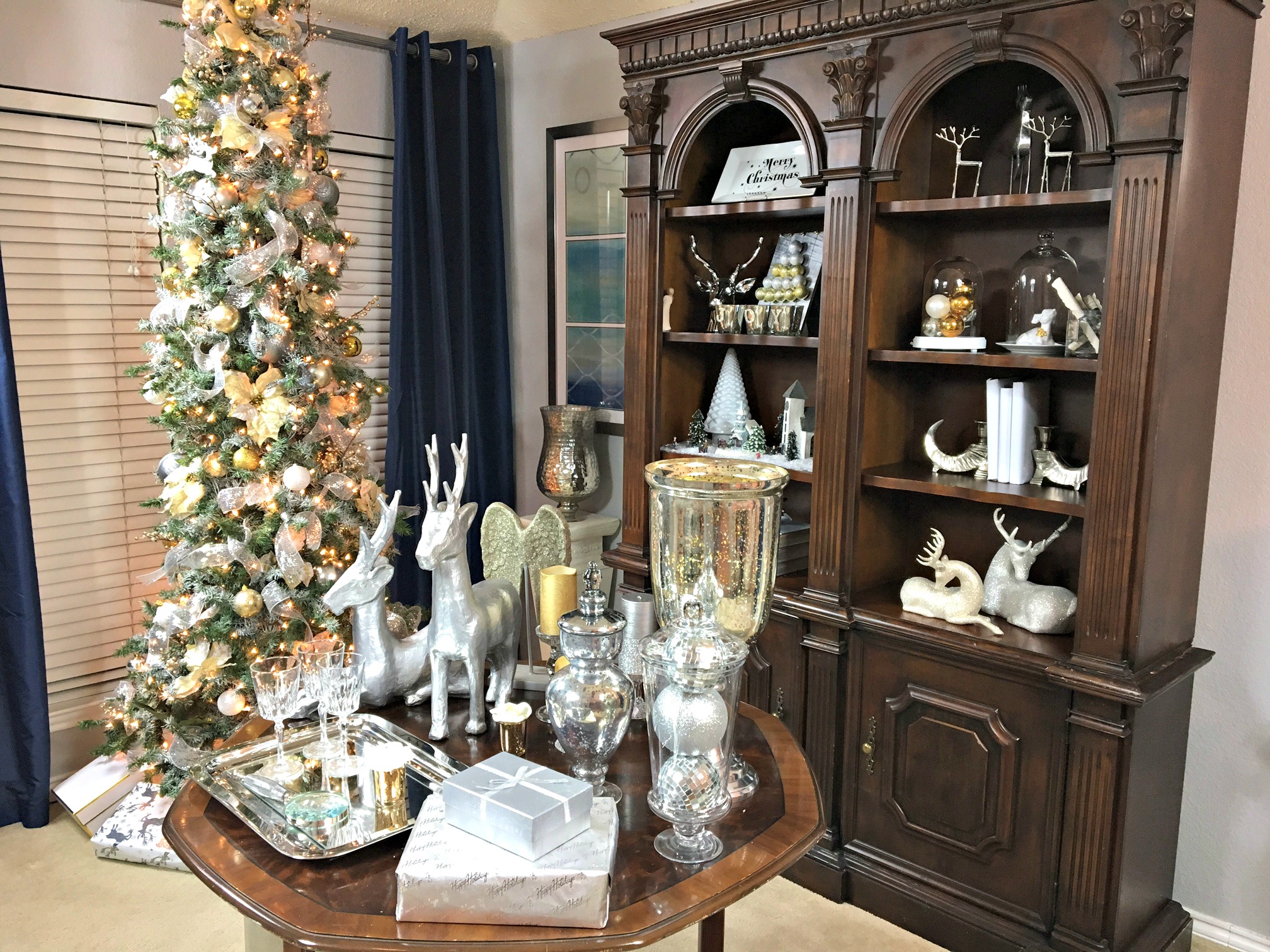 I decided to recreate a Christmas tablescape that I saw on FrontGate's Christmas Home Tour 2016.  I love challenging my self to recreating high end looks by using items I already have in my home.  I think I pulled it off…what do you think?
There was not one area in the public spaces of my home that was not decorated for Christmas.  I decided last year to remove the large armoire that was located in this hallway and replace it with this decorative sideboard.  It opened up this hallway and provided a new surface for me to decorate…LOL!  As if I needed more spaces to decorate in my home.  I decided to add a pop of black to this particular Christmas vignette to add some chic and jazziness.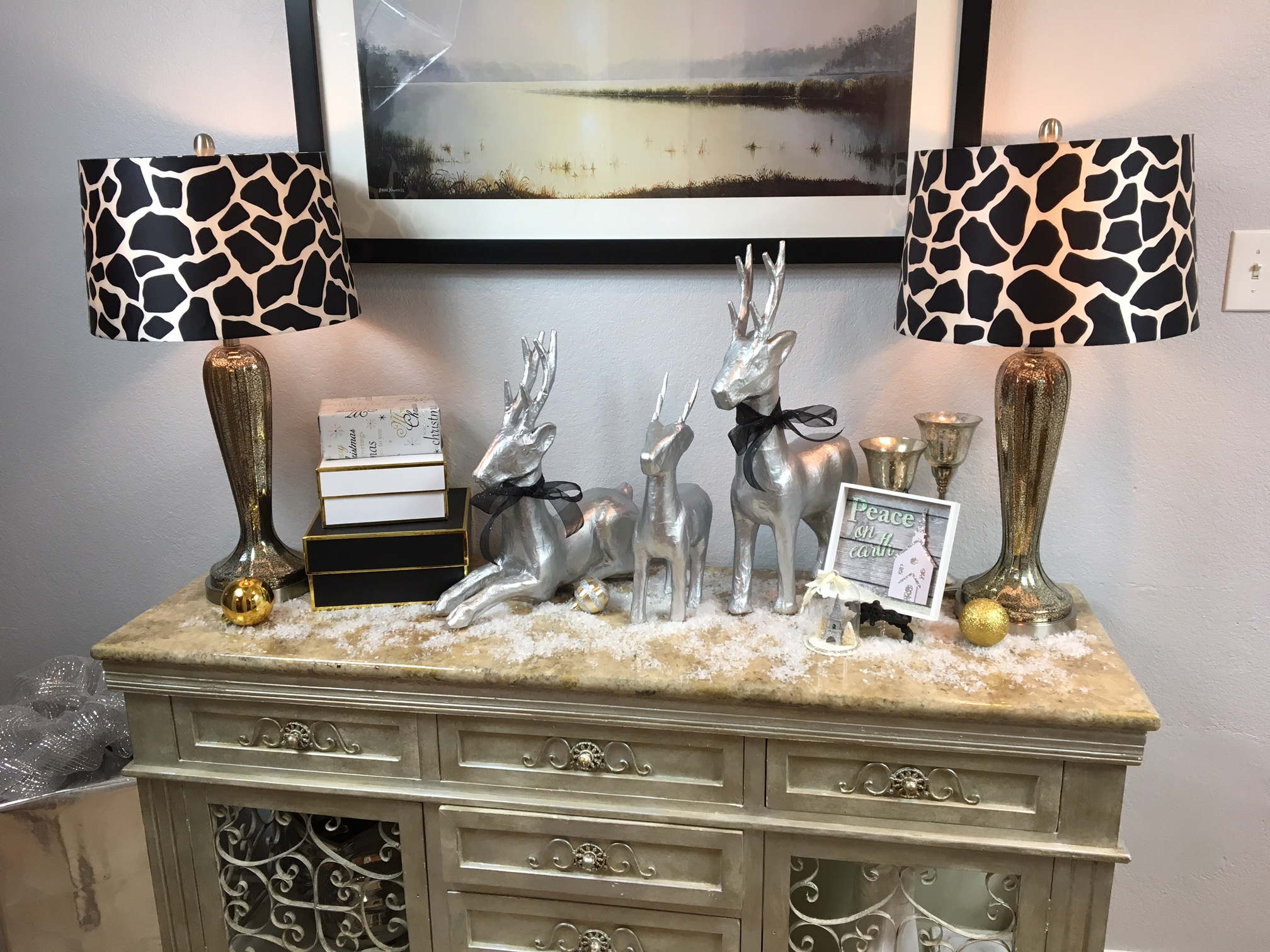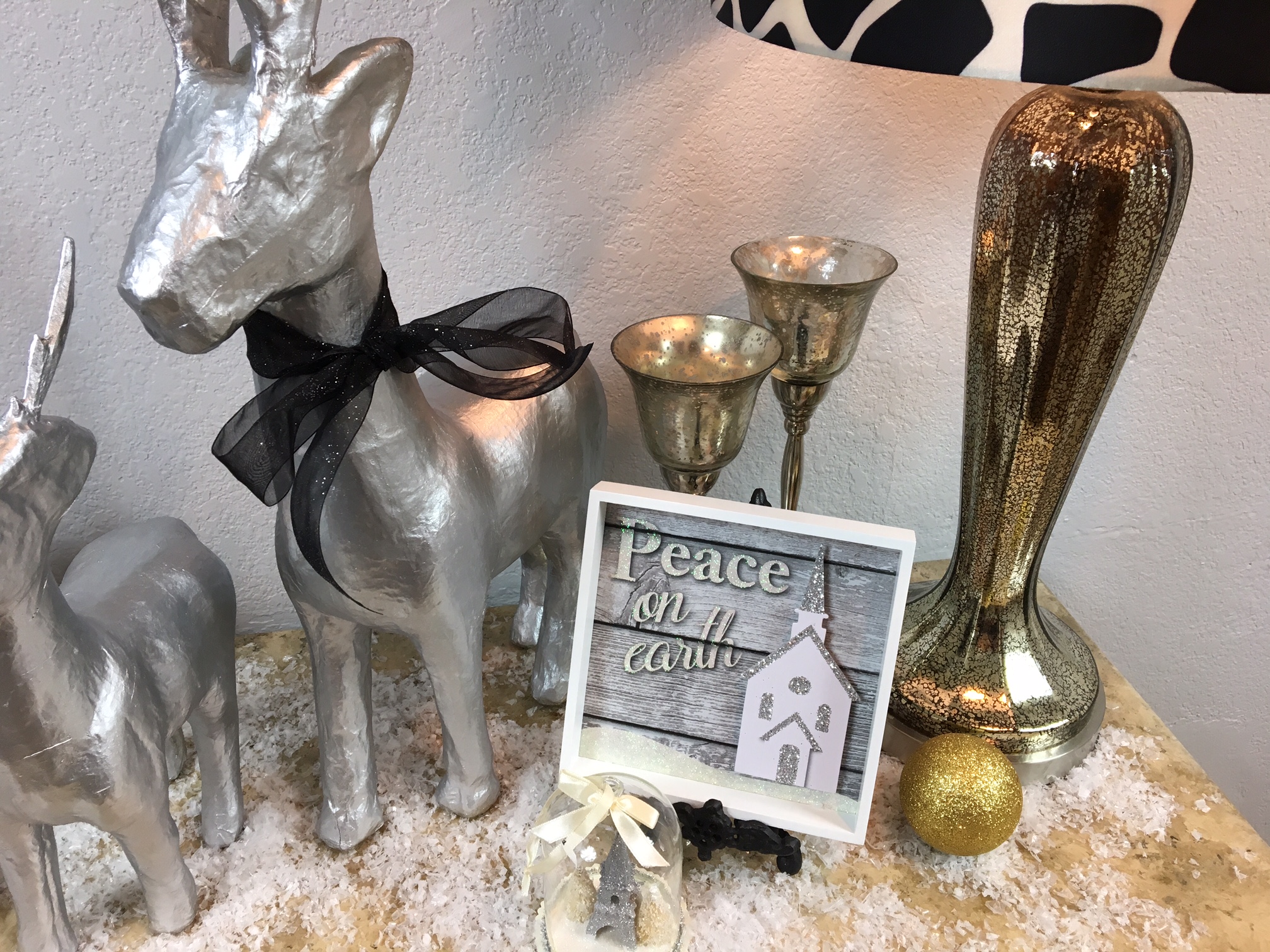 In my family room, I decided to keep the decorating to a minimal so that my family and I can enjoy moving around comfortably throughout the family room space and not having to worry about disturbing my Christmas vignettes…LOL!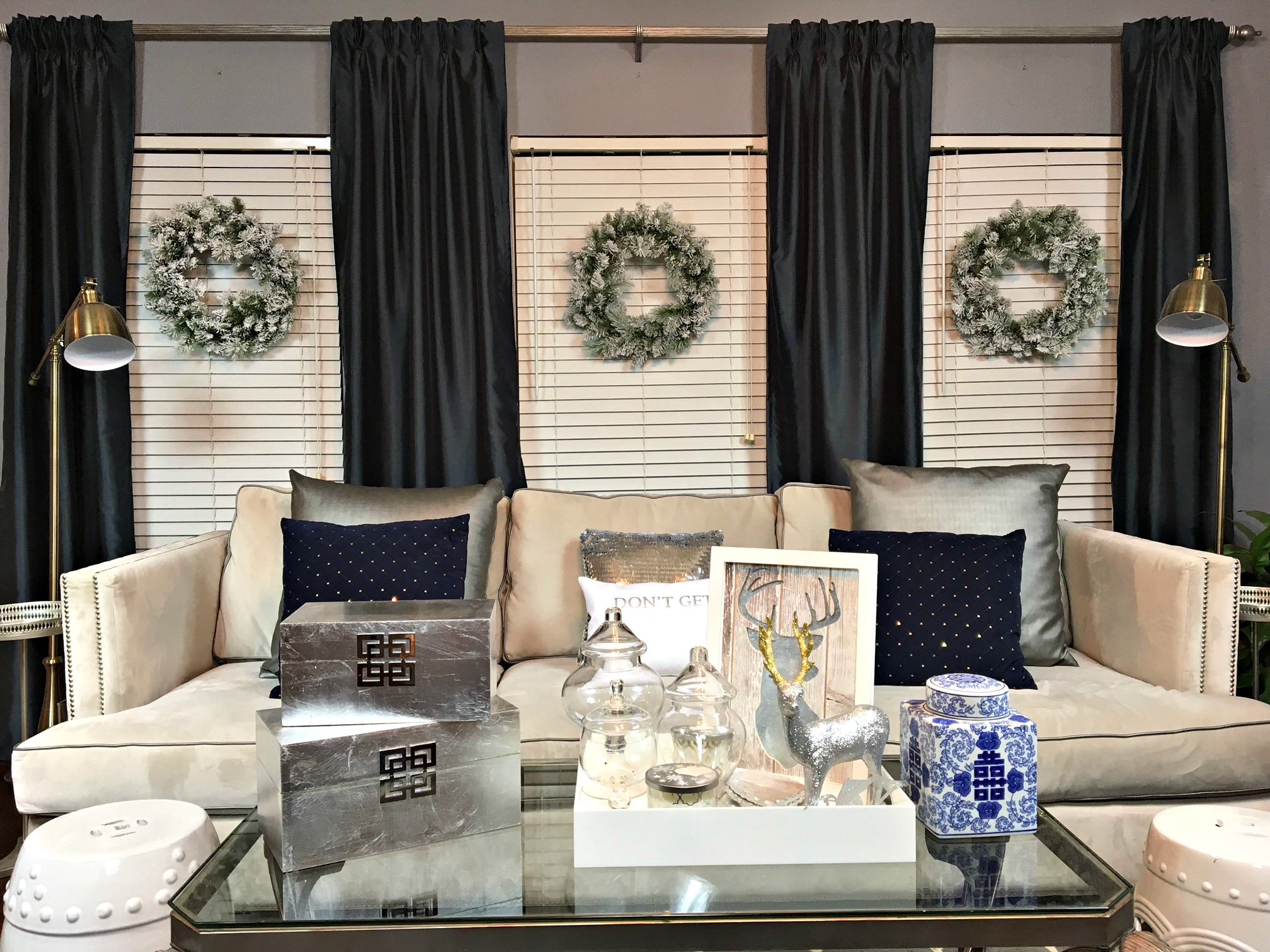 Don't worry…the apothecary jars will be filled with goodies this Saturday for my Annual Christmas Eve Soiree.  If I were to add the goodies inside of the jars now, there would not be any left for my event….LOL!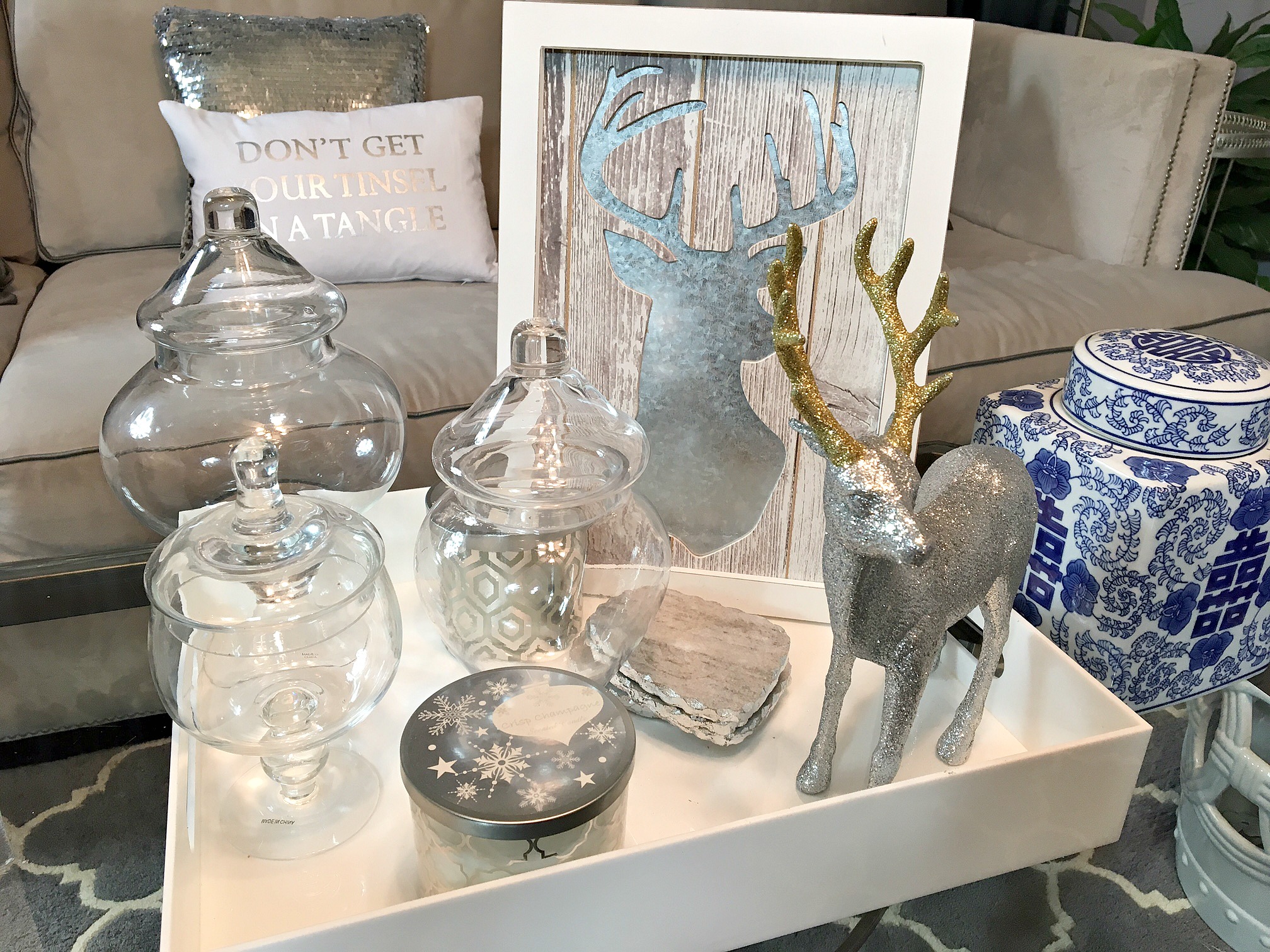 And last but not least, I decided to do a Christmas DIY to solve a problem I had trying to decorate my new accent table in my formal dining room space.  I needed to add two decorative accents on each side of the deer vignette but they had to be tall enough to be seen above the dining table decor but not to flashy to compete with the sunburst mirror gallery.  After searching for the perfect items without any success, I decided to make my own Christmas topiary ball ornament.  They turned out perfect and they were made for under $5.00 each.
From my home to yours, I wish you a Merry Christmas!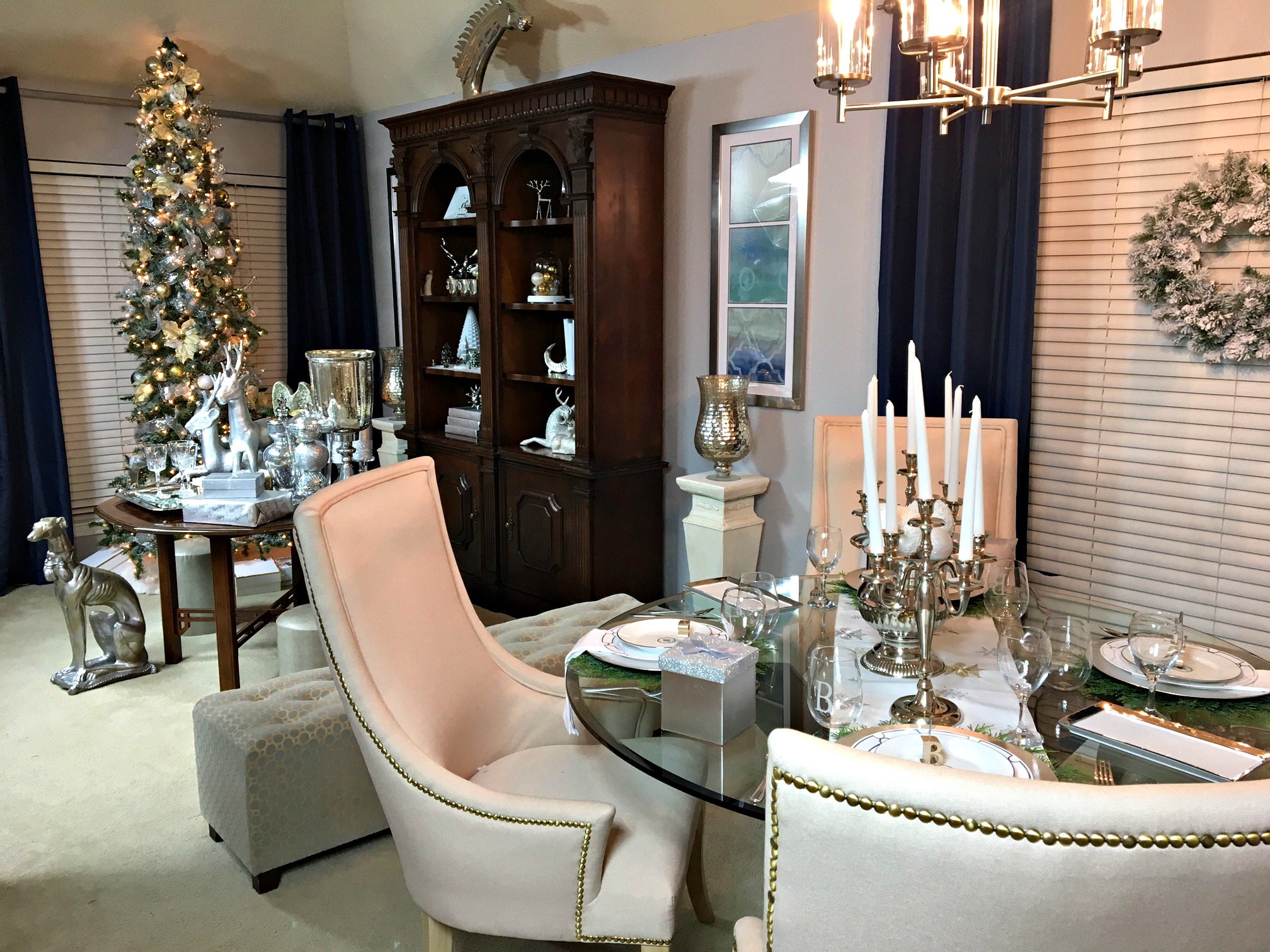 Thanks for stopping by!
Tamela