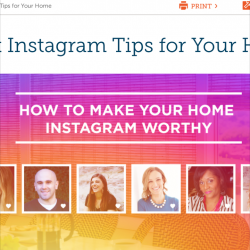 Have you ever browsed through Instagram and marveled at all the beautifully decorated homes and spaces that are being shared on Instagram?  Have you wondered how to incorporate "that Instagram worthy" look in your home?  Well I am proud to announce that I have been featured along with 5 other designers to share our tips and tricks on how to get your home "Instagram" ready and worthy to be shared on your Instagram and other social media accounts.
Please click on the following link… http://www.nextdayblinds.com/landings/instagram-tips-for-your-home.asp
to get these valuable designer tips and tricks that will help to get your home or space "Instagram" ready for 2017…don't forget to share!
Thanks for stopping by!
Tamela