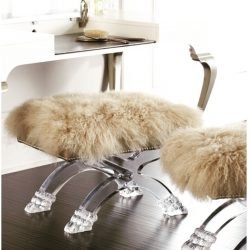 I have a confession…I am in love with ottomans!  There, I said it and I am not ashamed of my addiction…LOL!  I have at least 7 ottomans/benches in my home right now as I am blogging  this post.  And not ashamed to admit that I would love to add these beauties to my collection.  These are Massoud's Winston Sheepskin Stools prices at $1799 each…so now you see the reason why they are on my "Wednesday's Wish List".
Some people collect coins, dolls, miniature cars, spoons, books, dishwater…I collect ottomans and benches…LOL!
This is my Wednesday Wish List Item…What's yours?
Thanks for stopping by!
Tamela